Joseph Croxall
2023-07-01
Rented a day boat from abc boat hire had a fantastic time and would recommend it to anyone. The boat was brilliant and clean and stocked with all the items you'd need.
Very nice but very basic. Bit of a con job with the showers the instructions tell you to use 20p or 1£ coins and how to get it to work. But after speaking to some of the guys that work there you don't need to pay just pull the cord and set the heat to as you want it. Wonder how much the owners are making on that little con job.
Fabulous boat yard and staff so helpful and genuinely care about the boats and customers thanks especially josh and Colleagues🏴󠁧󠁢󠁷󠁬󠁳󠁿🏴󠁧󠁢󠁷󠁬󠁳󠁿
Wenche Haugseng
2023-06-15
Vi har hatt en opplevelsesrik og super uke ombord i Starks Class. Kommer gjerne igjen flere ganger.
I called in with a small issue with my boat, I was met by friendly and knowledgeable staff who fixed my issue within minutes, thanks for being so helpful.
A canal boat trip on tbe Llangollen canal over a 126' high aquaduct, through tunnels, working the draw bridges and locks is an unforgettable experience!
Stephen Pritchard
2023-05-12
Absolutely fantastic . Beautiful boats in a beautiful location. 4 night break. Managed to get to the aqueduct near Llangollen before turning around. Not many pubs on the route so take plenty of stock. Two tunnels ,a few lift bridges and two aqueduct and only two locks so perfect for beginners and you get to experience everything you could wish to see.
We had a lovely day out , staff very thorough on advise on safety and how to get the best from the day fantastic time definitely go there again and recommend the Marina
We have had an absolutely glorious day on a day hire. Warm welcome from knowledgeable and friendly staff. A cracking little boat with everything we needed. We took the advice of where to turn and had plenty of time to enjoy the cruise with a stop off for a walk and lunch. Highly recommend and we will definitely be booking again. Roo and Chris (and Kayleigh the dog)
Had a wonderful stay,staff very helpful and friendly,great location,wonderful walks along the canal,lovely and clean,it's a working marina so lots going on,yes road is a little busy but didn't bother us,will definitely be going back
With our knowledge and expertise, you can be sure that whatever you're visiting us for, will be conducted in a professional and friendly manner.

Whitchurch Marina Services Map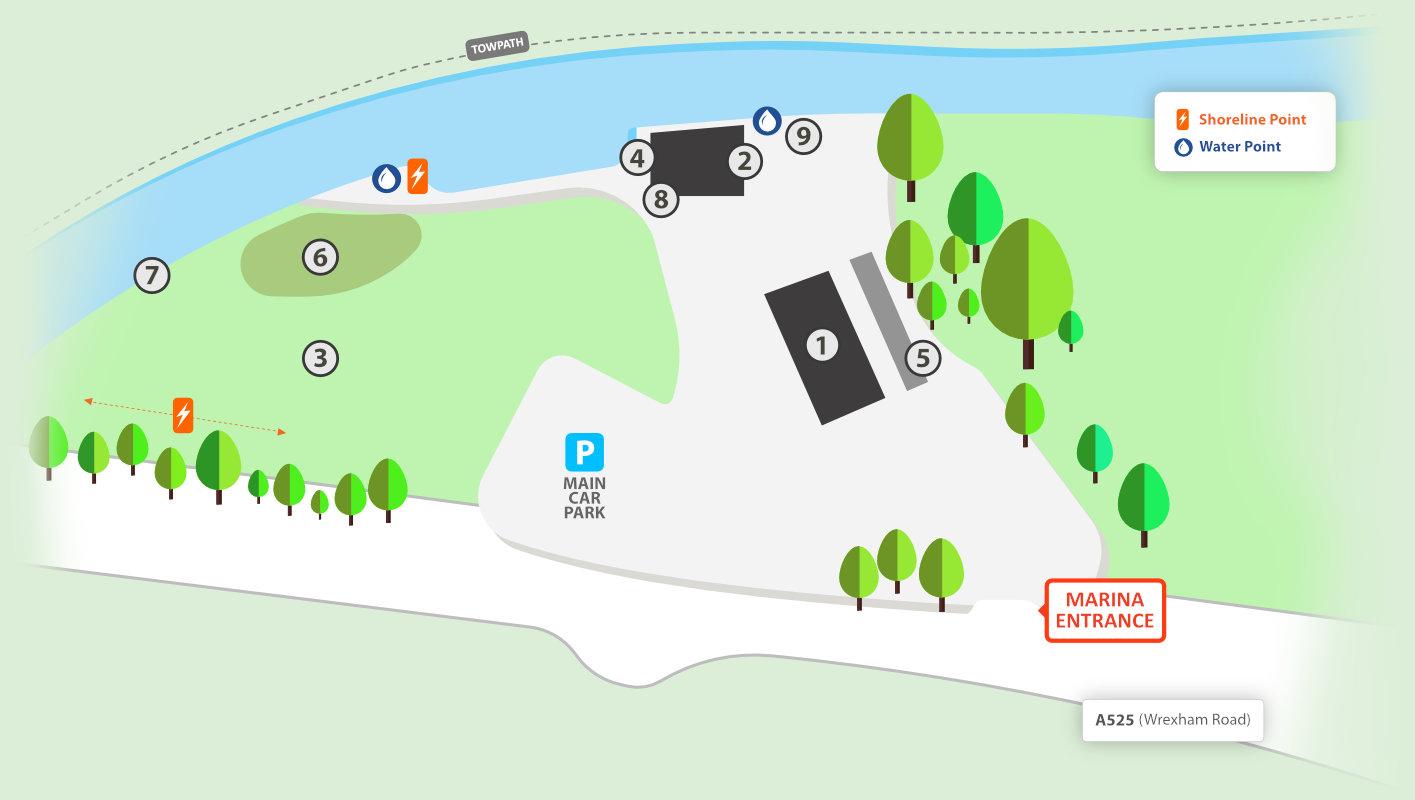 Want to book a holiday? Check Now.
If you know what you want and are ready to book, you can call our booking team on 0330 333 0590 or book online using the availability checker opposite.
All you have to do is choose your start location (You're currently on Whitchurch's website), the date you want to go and how long you want to go for, all the rest is optional to further refine your search.